Fred Meyer and Amazon both have special programs that contribute a portion of the money you spend there to the non-profit organization of your choice.

You purchase what you want, for the advertised price. You don't spend an extra cent! But the Glide Wildflower Show receives a small donation from your sale.

For Amazon, click the image below. On the next screen, sign in to your existing Amazon account or establish a new one. Then it will take you to the smiles.amazon.com home page which looks just like the regular Amazon page. Save it as a favorite, use it whenever you shop on Amazon, and it will remember that you want to support the Glide Wildflower Show.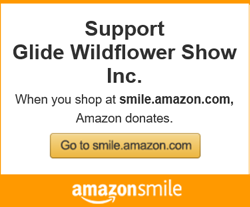 For Fred Meyer, click the image below. Click on "Link your Rewards Card now." Sign in to your existing Fred Meyer Rewards membership, or create a new one. Then designate the Glide Wildflower Show as your non-profit organization of choice. Whenever you shop at Freddie's with your rewards card, a donation will automatically go to the Glide Wildflower Show.