May 2016 Country Traveler article on this year's show
Read the article dated Feb 5, 2016
May 2011 Country Traveler article on this year's show
Read the article
2011 Roseburg Sportsman's Show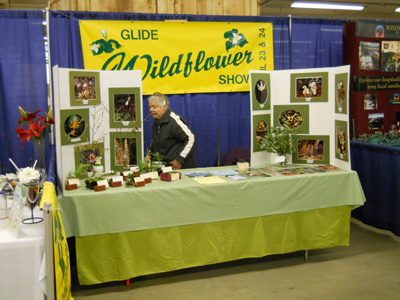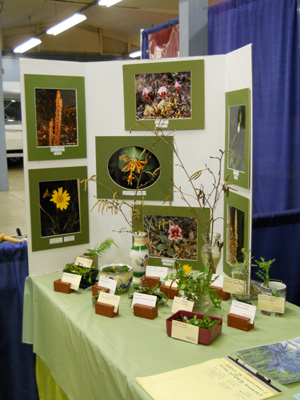 Each year the Glide Wildflower Show has a booth at the Sportsman Show held at the fair grounds. The goal is to promote knowledge of the Wildflower show and increase attendance. The Sportsman Show is held in mid-February, not exactly optimum flower picking season. Even though it is still cold outside and sometimes snowing, spring flowers are beginning to appear. This year was a bit amazing. From dandelions to Queen Anne's lace, the booth displayed an interesting array of flowers.

The Sportsman show brings in a huge crowd of people who love the outdoors. What better group of people to tell about the Glide Wildflower Show? Flyers are handed out giving the date, time, and location of the show as well as the schedule of lectures to be presented.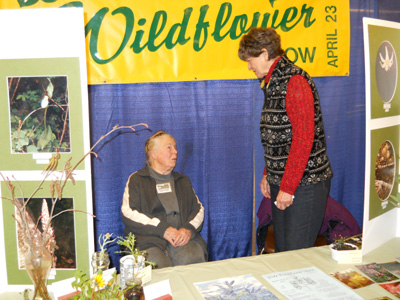 Glide Wildflower Show Receives Grant from Oregon Community Foundation.

Each year, the show has been improved with the kindness of donations. Businesses and individuals donated funds for the yellow and green banners that go up in April. Three years ago, an outreach letter was sent to the Glide Community that brought in $4410, often in $5 and $10 amounts. With this money we purchased new tables to replace the sawhorses and plywood that no longer could safely service the show.
The Glide Community Center remains the only possible building in Glide to physically hold the Glide Wildflower Show. The storage for show materials at the GCC has always been insufficient, and in 2009 it was no longer available. As many of you know, show pieces have been stored all around town for years. These past two years, efforts have been put into locating a property and securing funding for a building that would provide storage for all the pieces of the show. As Jeanne Moore, our Chairman/President and early member, continues her documentation on the show, this will provide a space where she and others could work on botanical projects. Our costs were estimated at approximately $17,000, not including insurance, utility set-up, signage, shelving, cabinets, table stalls and work station.
In working with the Glide Community Center Board, discussions led to the donation of property, by Lauren and Deanna Young, to the GCC for a building site for Glide Wildflower Show adjacent to the existing GCC Annex. The land has been surveyed, legal description transferred, and deed changed.
This is where we need your help. We have received grants from the Ben Serafin Fund and the Crane Creek Foundation to help us meet our goals. Jerry Comiskey, our builder, will start construction with a targeted completion by the 2011 Show. As part of our commitment, we are working to secure additional funds from our community to complete and maintain the building for the first year. Ongoing costs of the show are covered by book sales, entrance contributions, and donations. We work each year to build these revenue sources.
Our new modest building will help add another layer of stability to the Glide Wildflower Show structure and longevity. It will give us a year-round presence in Glide. It will enable us to keep housed and preserved the documentation for conservationists and scientists. It will provide a central point for those wanting to contact us. We work with the Glide Community Center, the Wolf Creek Job Corp, and U. S. Forest Service, the Bureau of Land Management, the Native Plant Society, While Away Books and others in preparing for every show. When each show ends, plans for the next one begin immediately.
We are building for the future of the Glide Wildflower Show. We would be delighted if you can help with this project, and no amonnt is too small. Small amounts, from many, built our table fund!
Glide Wildflower Council "Team Wildflower 2011": Jeanne Moore, President, Lee Devereux, Theresa Dielensnyder, Patricia Gilbert, Theo Glenn, Maureen Kirby, Becky McRae, Ellie Roberti, Charlie Spooner, Barbara Thomas, Judy Tighe
(Glide Wildflower Council members will be glad to answer any questions you may have.)
Glide Wildflower Show plant labels discussed in Oregon Flora Newsletter February 2009.
Click here to read the article.
Glide Wildflower Show honored with the 2008 "Rose Award".

The award is given for the greatest overall contribution to the Roseburg Area visitor industry and tourism promotion, by the Roseburg Visitor's & Convention Bureau.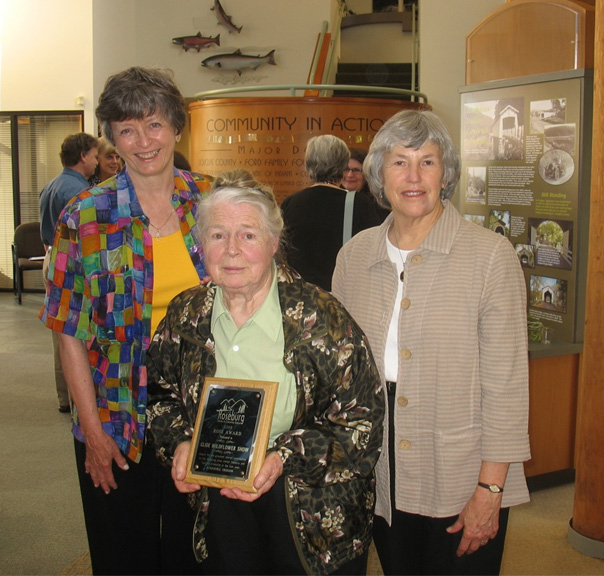 Lee Devereux, Jeanne Moore and Judy Tighe accept the award.